Our Next Monthly Meeting
Wednesday, April 18, 2018 at 06:30 pm
MIT Building E-51, Room 145
NOTE: The location has changed since last month!
A number of short talks on several related topics
Live Stream of tonight's meeting is at https://www.youtube.com/user/bostonlinuxandunix/live
---

A few photos from our 20th anniversary meeting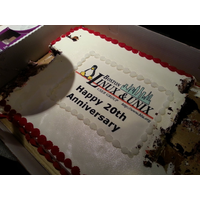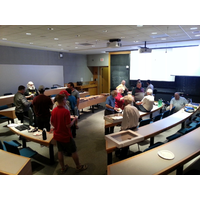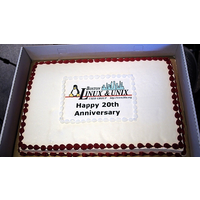 ---
Documents and Links From Recent Meetings
Algot Runeman on 3D Printing
15 November 2017; Algot Runeman
Algot's Overview - (html)
Algot's slides - (zip) - (html)
IoT Security, Digital Data Privacy, the Linux Dirty COW and related matters
19 April 2017; Brian DeLacey
Brian's slides - (pdf)
Red Hat OCID and Container Security
18 January 2017; Daniel J. Walsh
Dan's slides - (html) - (tarball) - (text)
Reproducible Builds
16 November 2016; Valerie Young
Blog post - (txt)
Valerie's slides - (pdf)
Transposition Cyphers in Historic Context
21 September 2016; Bill Ricker
Bill's Slides - (odp) - (pdf) - (ppt) - (pptx)
Bill's Notes - (txt)
PGP primer in emoji - (png)
Anatomy of a Cipher - (pdf)
Gray Fox ACW Intercepts Plants - (pdf)
Rooftop WLAN, IoT, and the Doobie Brothers
18 May 2016; Kurt Keville
Derek's slides - (pdf)
Linux Soup XVI: SystemD overview
16 March 2016; Christoph Doerbeck
Christoph's slides - (pdf)
Getting to Know Red Hat Enterprise Linux 7 - (pdf)
Functional Package Management and GNU Guix
20 January 2016; David Thompson
David's slides - (pdf)
(Here's a complete list)
---
---
---
Many of our meetings are held at M.I.T.
---
---
For information on wearable computing, see R. Paul McCarty's
Wearables Central
site.