Our Next Monthly Meeting
Wednesday, December 16, 2015 at 06:30 pm
MIT Building E-51, Room 335
NOTE: The location has changed since last month!
Distributed object store and file system
Next InstallFest :: Linux InstallFest LVIII (Hands-On) :: Sat, Dec 5, 2015 at 09:00 am
MIT Building E-51, Room 061
---

A few photos from our 20th anniversary meeting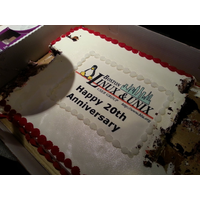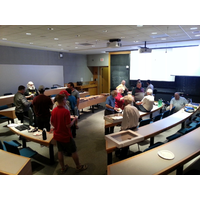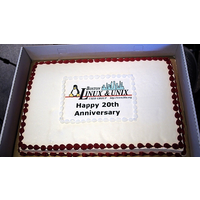 ---
Documents and Links From Recent Meetings
OSS Digital Photography Workflow
18 Novenber 2015; Christoph Doerbeck
Christoph's slides - (pdf)
Energia MT: Efficiently Sensing the World Around You
20 May 2015; Brian DeLacey, Zigurd Mednieks, Arun Thomas
Brian's slides - (pdf)
Zigurd's slides - (pdf) - (pptx)
SoC Update : How embedded Linux is changing the PC ecosystem
15 April 2015; Brian DeLacey, Kurt Keville, Aaron
TI-RTOS working on the CC3200 - (mp4)
Brian's slides - (pdf)
Linux Filesystem Comparisons
17 December 2014; Jerry Feldman
Jerry's slides - (pdf) - (PDF/A) - (LibreOffice)
Crypto News, Tor, and our annual PGP/GnuPG Keysigning Party (XIV)
17 September 2014; Bill Ricker, Shava Nerad
Bill's notes on Crypto News - (LibreOffice) - (PDF)
OpenCL: The open standard for parallel programming of heterogeneous systems
16 July 2014; Chris Allen
Chris' slides (DRAFT - Jul 13) - (LibreOffice)
Getting Started with IPv6
16 April 2014; Walter Horowitz
Walter's slides - (LibreOffice) - (PowerPoint) - (PDF)
Linux Soup XIV: CGroups and Linux Containers (LXC)
19 March 2014; Christoph Doerceck, Daniel J. Walsh
Raw audio of meeting - (mp3) - (caf)
(Here's a complete list)
---
---
---
Many of our meetings are held at M.I.T.
---
---
For information on wearable computing, see R. Paul McCarty's
Wearables Central
site.